Bobby Steiner Golf
Golf teacher, fitness instructor, and author of the highly acclaimed book on golf, "MUNIE," Bobby Steiner has a teaching style all his own. Whether writing about the game, or appearing in person, Bobby delivers with easy-to-follow lessons for every level of player.
In addition to teaching golf, Bobby is the owner/operator of Xtreme Fitness Boot Camp, co-owner of Four Pillars Karate, and is the spokesman for Pro Golf Tools and SalesFish.com.
Contact Bobby at bobbysteiner@bobbysteiner.com
Bobby's Bio:
Bobby started teaching golf after taking and passing the Player Ability Test (PAT) for the PGA of America in March, 1999. After a summer teaching in Asheville, NC, he moved to Palm Desert, CA to work for Troon Golf, and his good friend, Barry Clayton at the Westin Mission Hills Resort in Rancho Mirage.
Bobby spent 10 winters at the Westin property, as the Head Teaching Professional, traveling to various places for the summer months. Bobby spent the summer of 2002 as the Director of Instruction at Eagle Ridge Resort in Galena, Illinois, a 63-hole facility. There, he headed up all Golf Digest Schools. He has since taught groups, large and small, in Seattle, all over Oregon, up and down the California coast and in Scottsdale, AZ. Additionally, Bobby traveled most of the US in 2007 training other golf professionals to conduct Tempo Tuner Clinics, a product Bobby helped develop.
Beginning in April, 2001, Bobby contributed a weekly instruction column to the Desert Sun, which was soon picked up by New Mexico, Iowa, Illinois, North Carolina, Oregon, Florida, and Virginia papers. Bobby published his book, MUNIE ~ The Jitterbug Collection in 2004.
Bobby's teaching philosophy is simple: "People don't remember everything I say, but they do remember how our time together made them feel. Most leave with a better idea of how to swing a club, but what's more important to me is that they leave inspired to play the game. I'm fortunate to get to share golf with so many."
Golf Instruction History:
'99 – '09 Mission Hills (Winters) – Head Teaching Professional
2000 Eagle Ridge Resort – Assistant Director of Instruction
2002 Eagle Ridge Resort – Director of Instruction
2003 to 2006 The Practice Tee – Teaching Professional
2008 – Sagamore Golf Club – Director of Instruction
2009 to Present – Little Turtle Golf Club – Director of Instruction
Instructors Bobby likes and has worked and/or trained alongside:
Barry Clayton – Westin Mission Hills Resort
David Curtis – Tahoe Donner
Tim Mahoney – Director of Ed, Troon Golf
Mike LaBauve – Westin Kierland Resort
Ed Bowe – ESPN Golf Schools
Keith Lyford – Golf Digest Schools
Doug Hammer – ESPN Golf Schools
Alecia Larsen – Golf Digest Schools
Verne Perry – Pumpkin Ridge
Jim Skaugstad – Lewis River Golf Club
Art Booth – Neo-Classic Golf Instruction
Val Verhunce – Adobe Creek Golf Club
GIVE THE GIFT OF MUNIE THE JITTERBUG COLLECTION TO YOUR FRIENDS AND FELLOW GOLFERS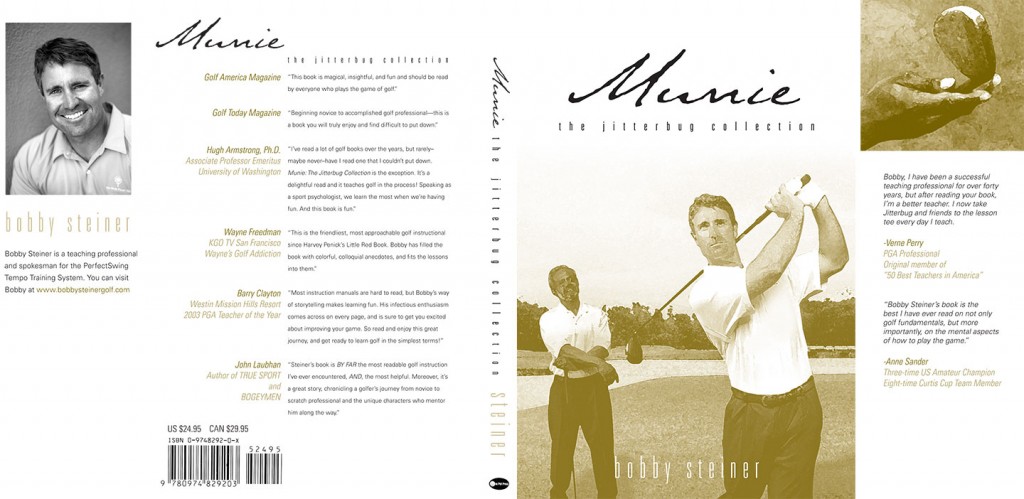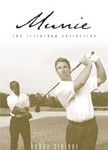 Munie: The Jitterbug Collection Only $24.95 + $4.50 shipping and handling for first book, 24.95 + $1.95 for each additional book.

Munie: The Jitterbug Collection (AUDIO BOOK) Only $29.95 + $4.50 shipping and handling for first book, $29.95 + $1.95 for each additional book.
Please email Bobby for ordering instructions